MultiPassword is a Russian application for storing passwords in encrypted storage. It is available both for Android and iPhone smartphones.
In Russia, due to sanctions, many services for storing passwords have become unavailable + there are problems with payment by bank cards. For instance, the following app (MultiPassword) works stably.
MultiPassword password manager has autofill and autosave authorization forms, synchronization of user data between various devices/platforms, and an option to use the application as a program for two-factor authentication.
Table of Contents
How do I use the MultiPassword app?
Using the MultiPassword application on your phone will not cause any problems even for those users who have never used such software before.
Registration
When you first launch the program, it will ask you to create an account in the system and will generate a unique 23-digit secret key – you should save this somewhere, because entering this key will be required for logging into MultiPassword from a new device. You also need to remember the data and the login (e-mail address) and the password entered during registration.
To ensure a high level of security, the MultiPassword system does not allow you to recover either your username or password by any standard method – by phone, by mail, etc. However, you can restore a lost secret key, which is always stored in the user's personal cabinet (you can generate a new one there, too).
Replenishment of the database with logins and passwords
A security characteristic of the MultiPassword mobile application is that, logins, passwords and related website addresses are entered manually by the user. However, passwords can be imported into the database from your personal account on the official MultiPassword.com website by first exporting them from your browser or another password manager (usually in CSV format).
There is another way – to use the MultiPassword add-on for your computer browser, which will automatically add the logins and passwords entered by the user in the authorization forms on the sites to the depository.
By the way, text notes, encrypted text, files (photos, documents) can be stored together with logins and passwords. As you can see, MultiPassword is an application that ensures good user account security.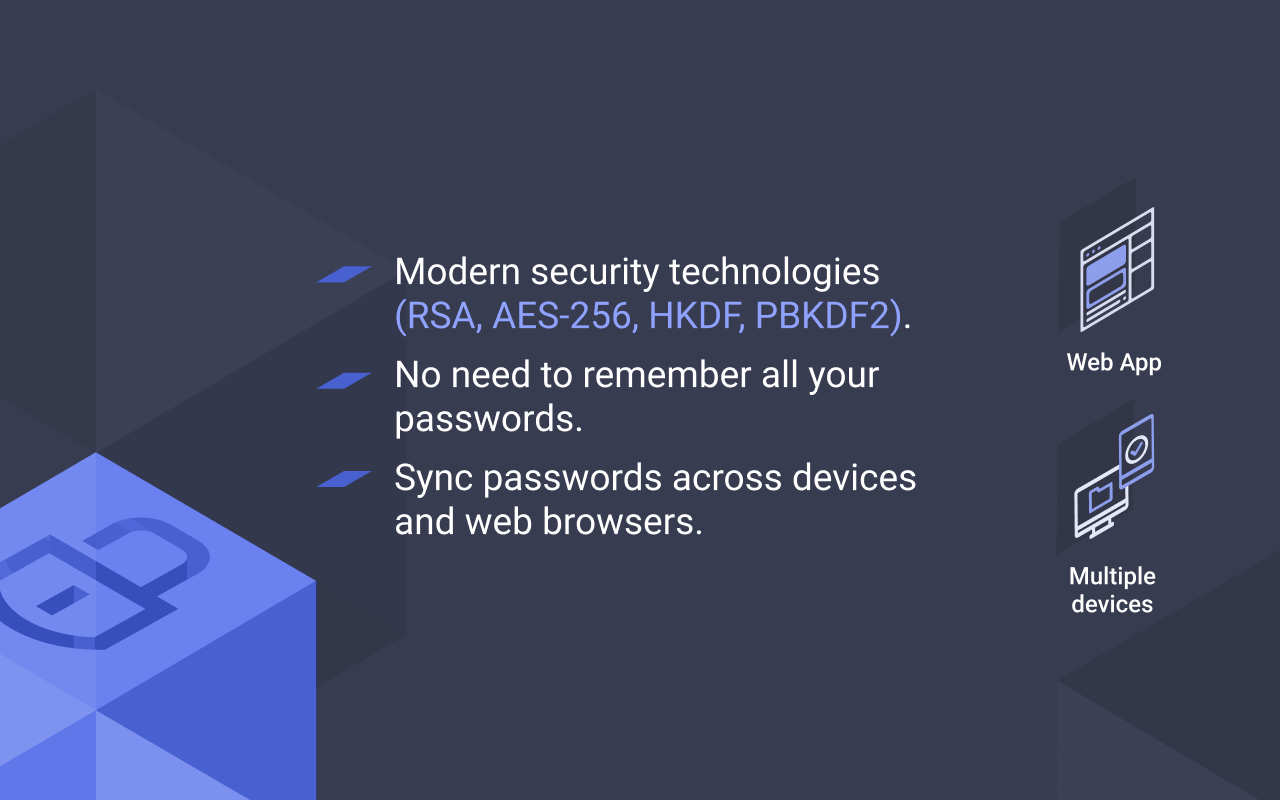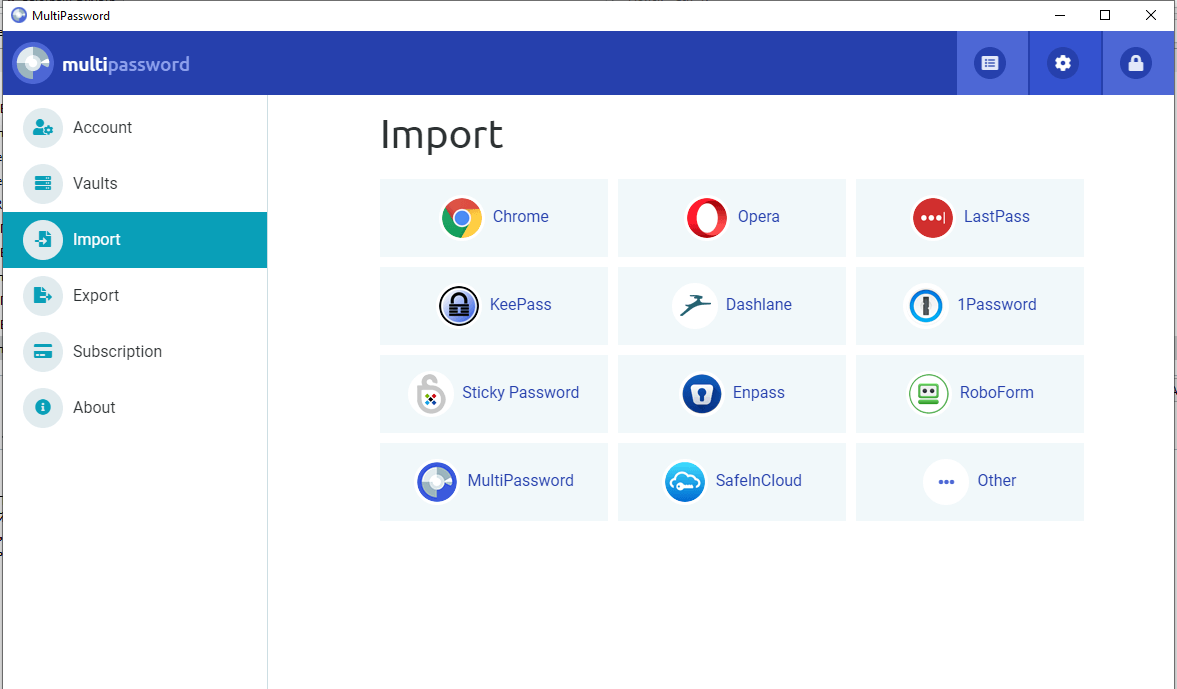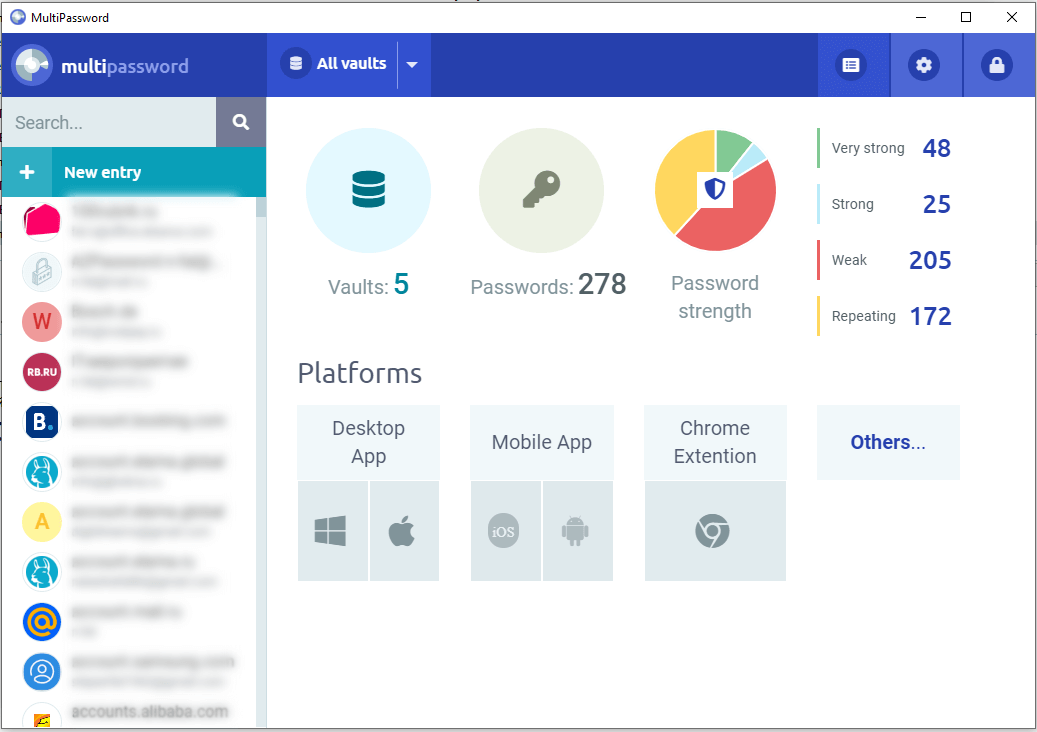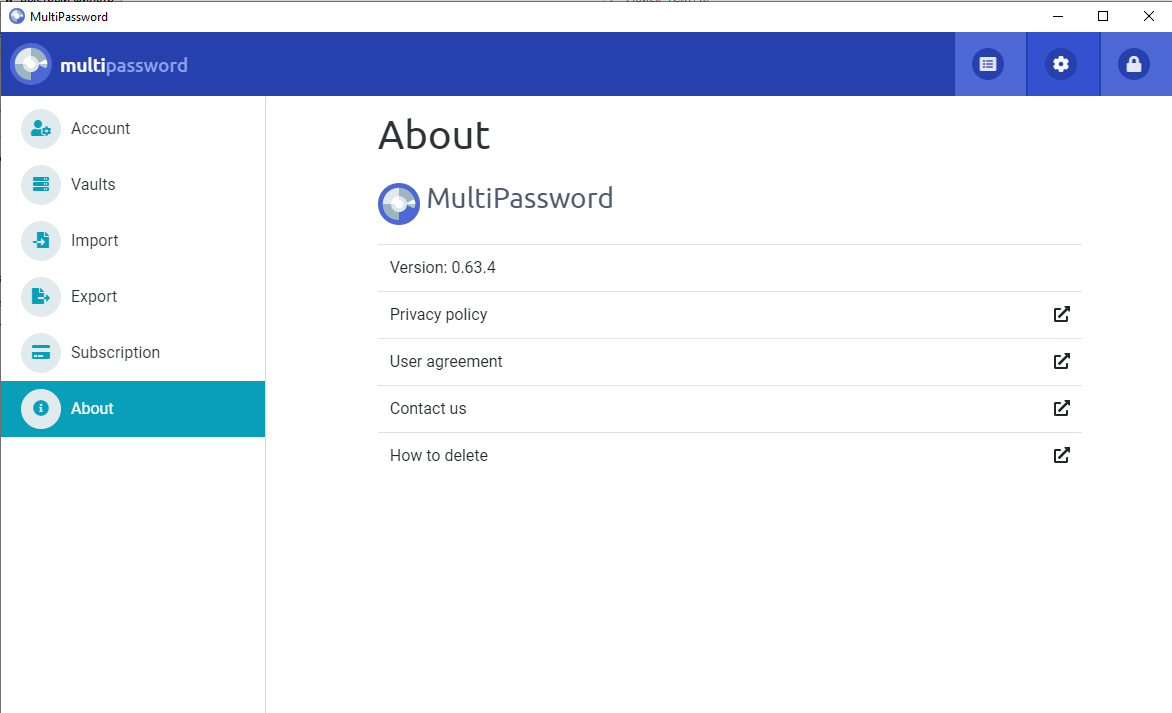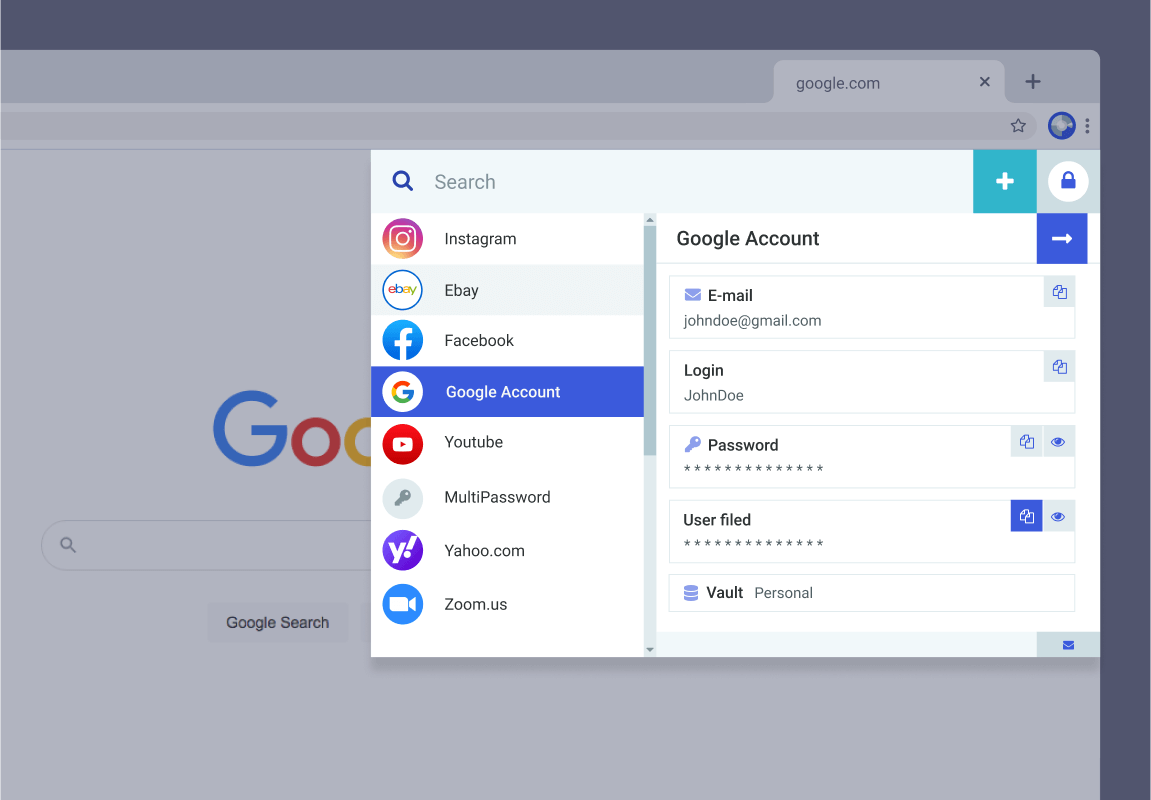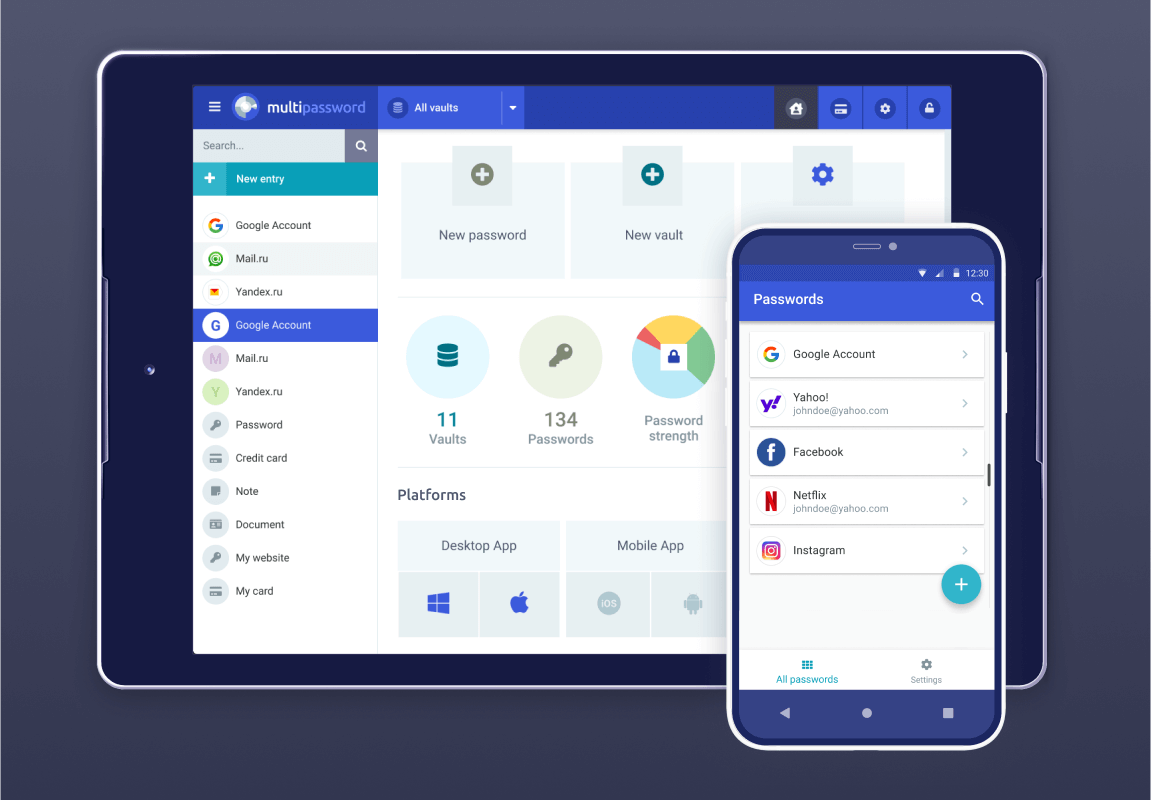 Using passwords
After opening a record with the username and password in the MultiPassword storage you can click on a URL link, which will open a page in the browser for entering the authorization data. This is a manual method, but there is also an automatic method.
Almost all mobile browsers for Android have the function of autofilling authorization forms when using external programs. To do this, go to the MultiPassword settings and activate the "Autofill" option (then give the program all the required permissions).
Once the user does this, it will keep track of the URLs they open in the browser and will prompt for associated usernames and passwords by clicking on the MultiPassword pop-up icon next to the text box.
Using MultiPassword as a 2FA Authorizer
One of MultiPassword's strengths, a part of being reliable, is the ability to use the application for two-factor authentication. This option can be added to any existing login and password vault entry. As with text notes, the user needs to add an additional field to the saved record, but this time it's "One-time password". Immediately after this an icon in the form of a QR code will appear opposite the field. If you touch it, the smartphone camera will be launched, which should be pointed at the QR code at the site, which requires two-factor authorization.
Now every time you enter the site, it will ask you to enter the 2FA code. To get this code, you will need to launch the MultiPassword app and open an entry with the "One-time password" field added (right there, the desired code is displayed).
Synchronization of logins and passwords between devices
With a MultiPassword subscription, users get to install the app on an unlimited number of devices. These can be other cell phones as well as computers with browsers. Making changes (creating, deleting and editing records) in the storage of one device is automatically reflected on all other devices. I.e. synchronization is carried out automatically, which occurs through the cloud online storage MultiPassword.
MultiPassword password app can be installed on Windows and Linux computers, Android and iOS mobile devices, and Chrome, Opera, Yandex, Brave and Edge browsers. The password database can also be accessed through the web interface, i.e. from any browser and on any device (you have to enter the master password and the secret key to confirm the login on each new device).
You may use MultiPassword free of charge for 30 days and spend less than 2€ per month thereafter or 18,99€ for a one-year subscription.
MultiPassword can be installed on PCs (program and web version), Android smartphones and iPhones.
It should be noted that this application is rated with 4 stars out of 5.