Have you ever received an email with a dull or unprofessional signature? It can leave a wrong impression on the recipient and diminish your credibility.
Fortunately, there's a solution to this problem: MySignature.io.
MySignature.io is an online signature generator that allows you to create professional email signatures in just a few clicks. Whether you're an individual or part of a team, MySignature.io has everything you need to create signatures that leave a lasting impression.
With its user-friendly interface and customizable templates, creating stunning signatures has never been easier.
In this article, we'll take a closer look at MySignature.io and how it can help elevate your email game.
Table of Contents
The Importance Of Professional Email Signatures
Professional email signatures are an essential component of any business communication. They provide a quick and easy way to make a great first impression on clients, customers, and colleagues.
A professional email signature should be concise, informative, and visually appealing. Not only do email signatures convey your contact information, but they also serve as a form of branding for your company or personal brand.
A well-designed signature can help establish credibility and professionalism in the eyes of the recipient. It can also create consistency across all employees' communications, which can enhance the overall image of your organization.
Therefore, investing time and effort into creating a professional email signature that reflects your values and goals while remaining user-friendly is crucial.
MySignature.io offers a variety of features that make creating professional email signatures an easy task.
One of the best features is their user-friendly editor, which allows users to customize their signature easily. With a drag-and-drop interface, users can add and remove elements such as logos, social media icons, contact information, and even CTAs (calls-to-action) to their signature.
Another great feature is MySignature.io's integration with major email clients like Gmail, Outlook, and Apple Mail. This means that users can easily install their signature in just a few clicks without the hassle of manually copying and pasting HTML code.
Additionally, MySignature.io provides analytics tracking for each signature so users can see how many clicks and view their signatures are receiving.
Undoubtedly, MySignature.io has become the go-to solution for professionals who want to create beautiful email signatures without spending too much time or effort on it.
With its intuitive editor and seamless integration with popular email clients, it's no wonder why more people are using MySignature.io to create stunning email signatures.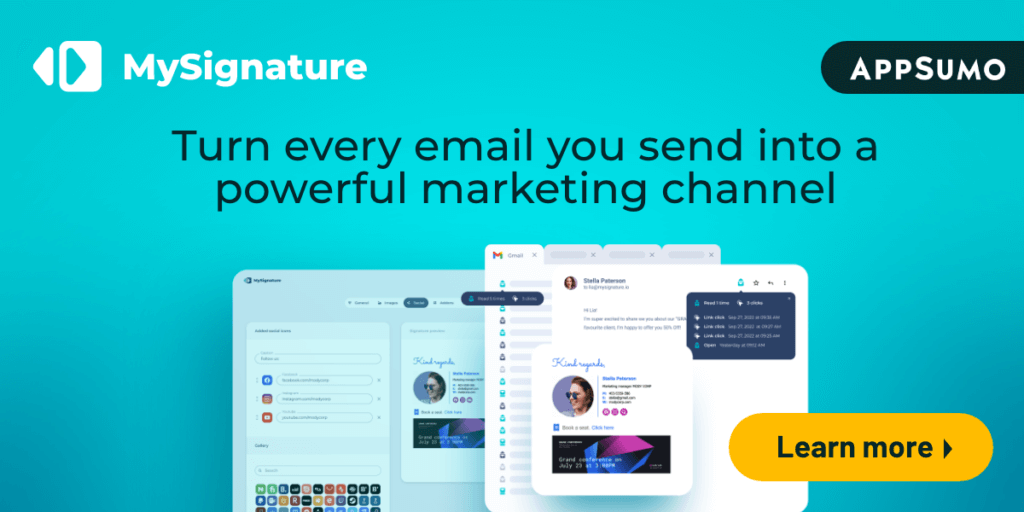 Customizing Your Signature With MySignature.io
Now that we've taken a closer look at the features of MySignature.io let's dive into how you can customize your signature to make it truly unique.
With MySignature.io, you have complete control over every aspect of your email signature, from the font and color scheme to the layout and social media icons.
To start, choose one of our professionally designed templates and add your personal touches. You can upload your company logo or headshot, choose from various fonts and colors, and even add clickable social media icons that link directly to your profiles.
Plus, with our intuitive drag-and-drop editor, customizing your signature is as easy as dragging and dropping elements where you want them. So why settle for a generic email signature when you can create one that truly represents who you are?
With MySignature.io's easy-to-use platform and endless customization options, you can take your email signature to the next level. Whether you're looking to add a touch of professionalism to your emails or want to stand out from the crowd, MySignature.io has everything you need to make it happen.
So what are you waiting for? Sign up today and start creating a signature that genuinely represents YOU!
How MySignature.io Can Benefit Individuals And Teams
MySignature.io is an excellent tool for individuals and teams who want to create professional email signatures easily.
With its user-friendly interface, anyone can design a signature that reflects their personal or company brand. The platform also offers templates and customization options so that users can add logos, images, social media links, and more.
For individuals who rely on email communication as part of their job, a professional signature can significantly affect how clients or colleagues perceive them. MySignature.io ensures that each signature is consistent across all devices and platforms, making it easier for recipients to contact the sender.
For teams working together on projects or campaigns, having a unified signature helps build brand awareness and credibility.
Overall, MySignature.io streamlines the process of creating and managing professional email signatures for both individuals and teams.
This platform allows users to create a unique signature without any design experience by providing customizable templates and easy-to-use tools. Whether you want to make a great first impression or establish your brand identity, MySignature.io has everything you need to succeed in today's digital world.
Using MySignature.io To Elevate Your Email Game
Elevating your email game is crucial in today's fast-paced digital world. With so many emails flooding our inboxes daily, making a lasting impression with every message you send is essential.
That's where MySignature.io comes in handy. This user-friendly platform offers a wide range of customizable email signature templates to help you create a professional and eye-catching signature in just a few clicks.
One of the best things about MySignature.io is its flexibility. You can choose from various font styles, colors, and images and even add social media icons to your signature. This means you can tailor your signature to showcase your brand and make it stand out.
Plus, MySignature.io integrates with popular email clients like Gmail, Outlook, and Apple Mail, making it easy to set up and use across all devices.
Using MySignature.io not only elevates the appearance of your emails but also helps establish credibility and professionalism in your correspondence. A well-designed email signature can provide valuable information such as your name, title, company website or logo, phone number, and social media handles all in one place.
This saves you and the recipient time while providing them with everything they need to know about you at a glance. Investing in a professional email signature using MySignature.io is an excellent way to enhance your online presence and build lasting relationships with clients and colleagues.
Frequently Asked Questions
Conclusion
MySignature.io is a fantastic tool for creating professional and eye-catching email signatures. The platform is incredibly user-friendly and offers various customization options for individual or business needs. Plus, with the ability to integrate with Gmail and Outlook, it's easy to use across multiple email clients.
Furthermore, the analytics feature allows users to track the performance of their email signature, providing valuable insight into how effective it is at driving engagement and conversions.
Overall, I highly recommend MySignature.io for anyone looking to take their email communication to the next level!