Looking for high-quality visual content can be daunting, especially when there are so many options. However, Depositphotos is a website that makes the search for quality images and videos easy and accessible.
With over 180 million files in its library, the site provides a vast collection of images and videos that cater to various creative needs. Whether you're looking for stock photos, illustrations, or footage, Depositphotos is the ultimate resource for all your visual content needs.
The site offers affordable pricing plans that accommodate different budgets while maintaining the highest standards of quality. In this article, we'll explore why Depositphotos should be your go-to source for stunning visuals that will enhance your digital marketing campaigns, website design, or any other creative project.
Table of Contents
Vast Collection Of Premium Visuals
Depositphotos is the ultimate destination for those seeking high-quality visual content. The platform boasts a vast collection of premium visuals that will meet any creative need.
Whether you're looking for stunning landscapes, eye-catching graphics, or captivating footage, Depositphotos has it all. The easy-to-use search filters and diverse range of categories make finding the perfect visual content a breeze. The collection includes millions of images, vectors, illustrations, and videos from talented contributors worldwide.
Flexible pricing options and subscription plans are also available to fit any budget, allowing users to access premium visuals without breaking the bank.
Don't wait any longer! Sign up today and discover the ultimate resource for high-quality visual content. Depositphotos is the perfect choice for those seeking professional-grade visuals that will bring their creative ideas to life.
Affordable Pricing Plans
Depositphotos offers a variety of affordable pricing plans that can accommodate any budget. The company's pricing options include individual downloads and flexible subscription plans, providing users various choices.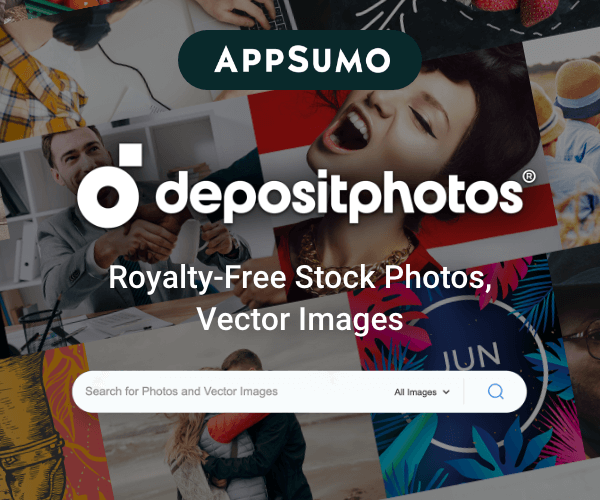 Depositphotos' pay-as-you-go model allows users to purchase credits that can be used towards any image without an expiration date. This model is ideal for those requiring occasional visual content access.
For those who require frequent access to visual content, Depositphotos' subscription plans offer unlimited downloads at a fixed monthly cost. Subscription options range from daily to yearly, making it easy for users to select a plan that fits their needs and budget.
Depositphotos' platform is designed to be easy to use, simplifying the process of managing accounts and downloads. With affordable pricing plans and an intuitive platform, Depositphotos is a great choice for users seeking high-quality visual content at an affordable price.
High Standards Of Quality
Depositphotos takes great pride in providing its users with quality visual content. The company understands the importance of maintaining high standards for imagery and has implemented a rigorous quality control process for every content offered on its platform.
A team of experienced editors carefully reviews every image to ensure it meets Depositphotos' strict standards. This includes assessing technical aspects such as resolution, color accuracy, and sharpness, as well as evaluating the composition, subject matter, and overall aesthetic appeal of each photo or illustration.
By maintaining these high standards of quality, Depositphotos can offer its users a vast selection of professional-grade visual content that is visually stunning and technically flawless. This commitment to quality ensures that users can rely on Depositphotos to meet their creative needs and produce high-quality results.
Catering To Diverse Creative Needs
Depositphotos is committed to maintaining high standards of quality to ensure that its customers receive the best visual content. They have an extensive library, carefully curated and regularly updated with fresh and relevant content that meets industry standards. Depositphotos takes pride in providing clients with a wide range of options, making it easy for them to find what they need to bring their creative visions to life.
Depositphotos' clients have endless possibilities for bringing ideas to life. Depositphotos understands that every creative project is unique and requires a tailored approach. They offer diverse content catering to different creative needs, including stock photos, videos, illustrations, and vectors. The library also features various styles and themes to ensure that every project is represented.

Enhancing Your Digital Marketing Campaigns And Creative Projects
If you want to take your digital marketing campaigns and creative projects to the next level, look no further than Depositphotos.
With a vast library of high-quality visual content, you'll have everything you need to create eye-catching graphics, videos, and social media posts that will capture your audience's attention.
Whether you're a small business owner or a seasoned marketing professional, Depositphotos has something for everyone.
From stunning stock photos and illustrations to engaging videos and audio tracks, you'll find everything you need to bring your creative vision to life.
And with flexible pricing options and a user-friendly platform, it's never been easier or more affordable to access the best visual content on the web.
So why wait? Start exploring Depositphotos today and take your digital marketing campaigns and creative projects to the next level!
Frequently Asked Questions
How Many Images Does Depositphotos Have In Its Collection?
How many images does it have in its collection? This is the question that everyone wants to know about Depositphotos.
It's hard to imagine an exact number, but one thing is for sure: the website boasts an impressive collection of photos, vectors, illustrations, and videos.
With a variety of categories to choose from, users can easily find what they're looking for.
Plus, the website offers flexible pricing plans to fit any budget.
Whether you're a small business owner or a large corporation, Depositphotos has something for everyone.
So if you require high-quality visual content, look no further than Depositphotos!
What File Types Are Available For Download On Depositphotos?
Looking for a website that offers a variety of file types for your visual content needs? Look no further than Depositphotos!
With an extensive collection of images, vectors, videos, and even editorial content available for download, Depositphotos has everything you need to enhance your creative projects.
Whether you're looking for JPEGs, PNGs, or even RAW files, this site covers you.
So why wait? Start browsing today and find the perfect file type for your next project!
Does Depositphotos Offer Any Discounts Or Promotions?
Are you looking for discounts and promotions on Depositphotos? You're in luck!
The website offers a variety of deals throughout the year, from percentage-off sales to subscription packages.
Keep an eye out for holiday specials, and limited-time offers to get the most bang for your buck.
Take advantage of the chance to save money while accessing high-quality visual content.
Are There Any Restrictions On How I Can Use The Images I Download From Depositphotos?
When you download images from Depositphotos, there are specific restrictions on how to use them.
It is essential to read and understand the license agreement before using any image for personal or commercial purposes.
Some common restrictions include limitations on the number of times an image can be used, the types of projects it can be used for, and whether it can be altered or modified in any way.
However, with proper usage and adherence to these restrictions, you can still use the high-Take advantage content available on Depositphotos.
Can I Request Custom Visual Content From Depositphotos?
Yes, you can request custom visual content from Depositphotos.
Whether you need a unique image for your website or a specific design for your marketing campaign, Depositphotos offers a wide range of customization options to fit your needs.
From selecting the perfect image size to choosing the suitable color scheme and layout, their experienced designers can help bring your vision to life.
Plus, with their easy-to-use platform and affordable pricing, creating custom visual content has never been easier or more accessible.
So why settle for generic stock photos when you can have personalized images that truly reflect your brand?
Conclusion
In conclusion, Depositphotos is a fantastic resource for anyone requiring high-quality visual content. With over 200 million images in its collection, there are plenty of options.
Whether you're looking for photographs, illustrations, or vector graphics, Depositphotos has it all. Additionally, the website offers various file types for download and frequently provides discounts and promotions to its users.
Depositphotos clearly states and simplifies restrictions on how the images can be used. Additionally, if you require something more specific, Depositphotos offers custom visual content services.
Overall, I highly recommend Depositphotos as a go-to source for all your visual content needs.